Get ready to embrace the spine-chilling spirit of Halloween like never before! As the witching hour draws near, it's time to unlock your inner ghoul and indulge in a world of sweet surprises and terrifyingly stylish transformations. From jaw-dropping costumes, delectable candies, to hauntingly delightful events, Harbour City is where your trick-or-treat game is taken to new heights this year!
Costume chronicles
The eerie night calls for some bewitching attire options. Unleash the inner monster of your little ones with some frightfully fabulous costumes.
Embrace the chilling elegance inspired by Esther from the horror movie Orphan, but with a hauntingly modern twist. The Plaid Cotton Twill Dress by Ralph Lauren captures the essence of the character's classic look with its rich-hued plaid pattern. Pair it with a crisp white collar button-up to add a touch of sophistication.
The little boys, meanwhile, will steal the show in the most adorable way imaginable with Zara's collection. Let their imagination take flight as they transform into an otherworldly Martian. The costume features charming collar appliqués and a zip-up front. The playful helmet with antenna and ear appliqués as well as the shiny gloves serve as the perfect finishing touches to the intergalactic ensemble.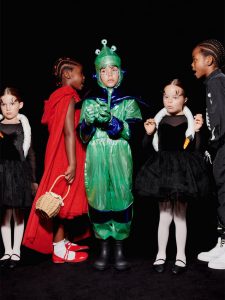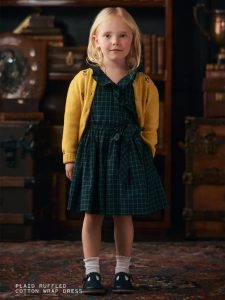 Haunted sugar rush
As the bewitching costumes work their magic, leaving onlookers spellbound, it's time to embark on a trick or treat adventure to make the little ghouls' palate scream with delight.
Take trick-or-treating up a notch with these luxe Halloween-themed candies. Sugarfina promises a truly enchanting candy stash with its strawberry-flavored creepy Zombie Brains, fruity raspberry Sugar Skulls, hauntingly tasty Mummy treat, and the enchanting Apple Frogs with a burst of apple and vanilla flavor.
The candy-filled extravaganza doesn't stop here. Don't miss out also, on the mischievous offerings from Mr Simms. Explore their adorable pumpkin sets, jelly eyeballs, and surprise-packed sets that will tempt even the young-at-heart and leave you with no guilt as you gobble down these delectable Halloween candies.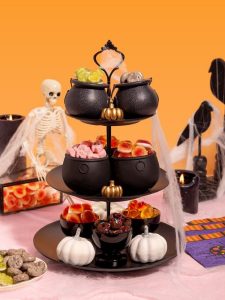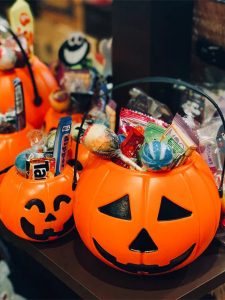 Spooky spectacular
Delve into a captivating array of Halloween events that are sure to ignite your little one's festive spirit and create unforgettable memories. Prepare to be enchanted by the "Spooky Halloween Party" at Harbour City, a celebration that caters to children and adults alike. Get ready to dance the night away, be mesmerized by astonishing magic performances, enjoy the art of balloon twisting, and immerse yourself in engaging workshops and much more. And for the little creatives, don't miss the opportunity to unleash their imagination at the "Halloween Candy Bag DIY Workshop," where they can go trick-or-treating and collect candies from designated shops along the way. Click here to learn how to join!
Embark on yet another immersive experience at The Monster Lab's spellbinding Halloween Party, taking place at the World Commerce Centre on October 23 and 28. This thrilling event seamlessly combines the art of cooking, allowing participants to create their own Witches Fingers, with the principles of STEAM. Engage in mesmerizing Halloween-themed games and delve into the world of Halloween Density Jars, where learning meets spine-tingling fun.
Grab your broomsticks and get ready for a bewitching celebration at Harbour City, where delightful and spooky twists await, sending shivers down your spine.  Let the enchantment of this spirited occasion sweep you off your feet as you create lasting memories in a world of ghoulish delights.