LOEWE announces a new collaboration with On: the Cloudtilt. A lifestyle shoe made to move, the Cloudtilt blends meticulous design with Swiss engineering, continuing the brands' shared exploration of craft and technology. The shoe's all-new silhouette features sequentially collapsing Clouds that adapt to the wearer's movement for seamless weight transfer from heel to toe.
Inspired by the endless, expressive possibility of movement, the Cloudtilt is the first shoe in On's lifestyle range to incorporate CloudTec® Phase: a computer-generated midsole technology that offers cushioning with fewer components for a smooth, ultra-lightweight ride. Fine-tuned using Finite Element Analysis software that simulates walking stress on the legs and feet, the Cloudtilt is precision-crafted to provide superior cushioning for long days on your feet.
Featuring a knitted sock construction, speed laces and LOEWE × On collaborative branding, the Cloudtilt is a streamlined design. With an outer sole crafted from EVA foam to provide a soft landing and minimise the use of rubber (which only features in targeted contact spots) and an engineered mesh upper made from 99% recycled polyester, the Cloudtilt marks the latest chapter in LOEWE × On's commitment to performance and sustainability. All packaging is made from 100% recycled industrial materials.
The Cloudtilt will be available in two drops, each with its own colour palette. Men's drop 1 on October 12th features all white, all black, lime green, khaki green and forever blue, while Women's drop 1 features all white, all black, lime green, purple rose, and all navy. Men's drop 2 in January 2024 features sand, wild rose, and slate grey, while Women's drop 2 features sand, wild rose, and beet red.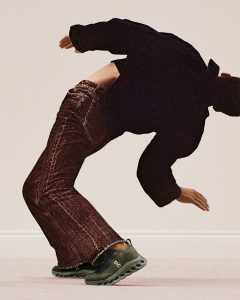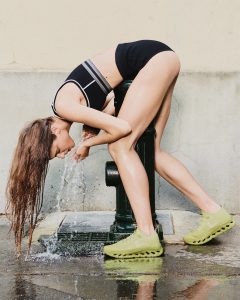 The accompanying campaign shot by Thibaut Grevet celebrates the craft of movement and the collaboration's tech-led approach. Films and stills feature talent who embody a dynamic array of approaches to physicality and embodied movement, from gymnast Yonghon Huh, dancers Roy Kaneza and Hortense de Gromard, to BMX rider Cindy Dos Reis and animal flow instructor Stefan Crainic, as well as the first-ever female Emirati motor racing driver Amna Al Qubaisi, and Liu Hong, the world champion and Olympic gold medalist race walker. Expressing the rich, multi-faceted nature of human movement, they leap, twist, stride and stretch.