Experience an out-of-this-world Christmas celebration as we embark on a thrilling journey to space this holiday season! Friends from "Bear Planet" have landed at the Ocean Terminal Forecourt in Harbour City, arriving aboard the magnificent "Bear Rocket Launch Station" from 17 November 2023 to 1 January 2024. Prepare to be mesmerized by the launch station's cutting-edge design, featuring a captivating digital aesthetic. The neon lights also illuminate the surroundings, creating a magical atmosphere filled with vibrant colours and a futuristic sci-fi vibe. Over 30 delightful Bear Astronauts, Christmas Tree Robots, and Alien Friends are placed across the launch station's three distinct zones. A total of 10 photo check-in spots offers a truly unforgettable experience, allowing you and your loved ones to capture precious moments here. Let's revel in the joy of Merry Spacemas together!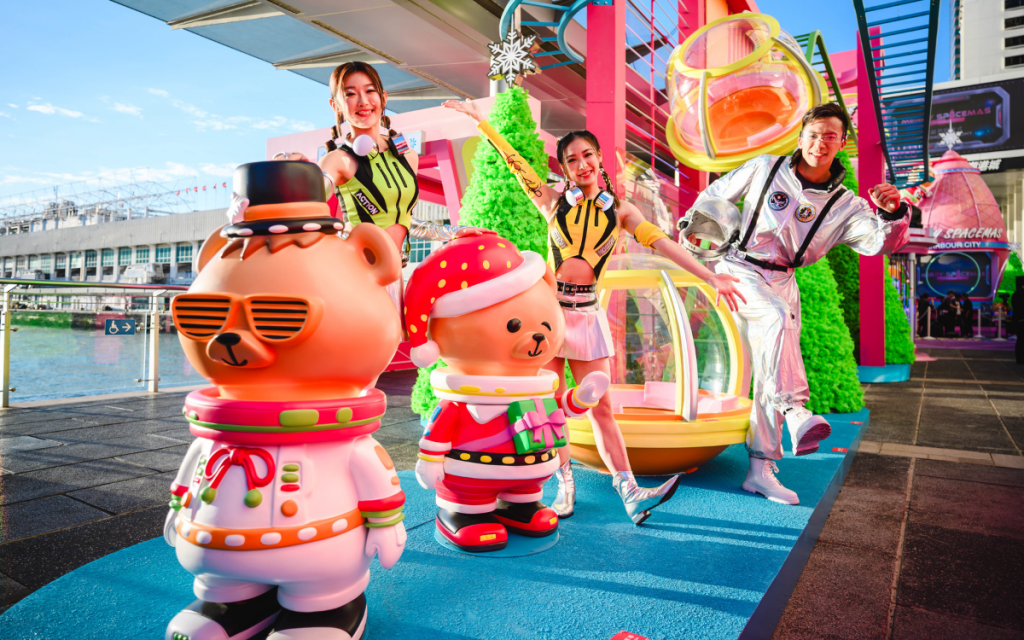 Begin an extraordinary space journey by entering the open-air zone of the Launch Station through the magnificent 5-meter-tall "Merry Spacemas" rainbow neon arch! Bear Astronauts are ready to greet you to board the spacecraft and begin the adventure. Prepare to be thrilled as you board the "Lightspeed Elevator" and experience the breathtaking sensation of high-speed flight. Next, step into the captivating "Zero Gravity Cabin" and immerse yourself in an enchanting spacewalk adventure. The friends from "Bear Planet" have transformed the "Exploration Shuttle" into a Party Room. They also step onto the futuristic "Interstellar Transport Belt" and ready to set off on an extraordinary adventure beyond the stars. The pinnacle of this incredible journey is the 3-meter-tall Bear Astronaut leads everyone to ascend the majestic 10-meter-tall "Christmas Tree Rocket", poised to launch into the vastness of space.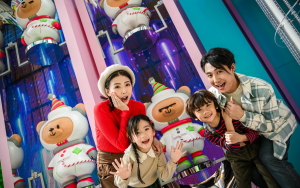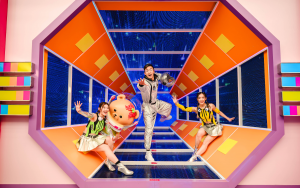 Lightspeed Elevator                                                      Zero Gravity Cabin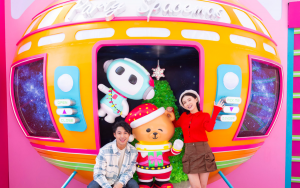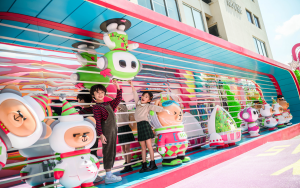 Exploration Shuttle                                       Interstellar Transport Belt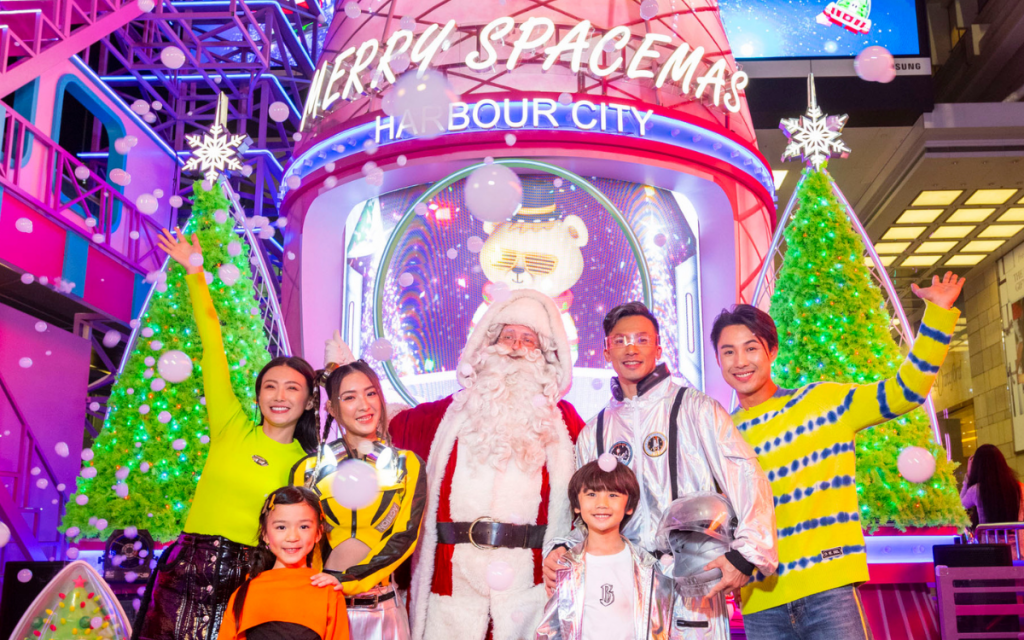 Christmas Tree Rocket
A captivating tunnel next to the harbour has set up the indoor special training zone of the Launch Station. Within this zone, 4 remarkable photo spots offer you a unique opportunity to marvel at the beauty of outer space and the mesmerizing panorama of Victoria Harbour. Step through the entrance of the "Christmas Tree Gate" and immerse yourself in the luminous ambiance of the "Neon Space Station". Traverse the enchanting "Rainbow Corridor" and experience the exhilaration of the "Cosmic Planets". Lastly, you can lead the friends from "Bear Planet" to the "Galaxy Entrance" at the Main Staircase of Ocean Terminal connecting to Harbour City, and joyfully indulge in Christmas gift shopping together.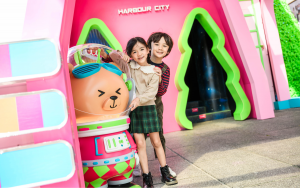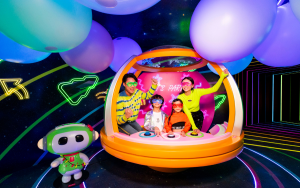 Christmas Tree Gate                                                   Neon Space Station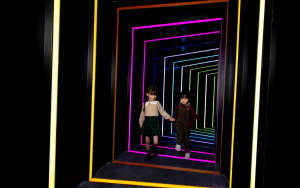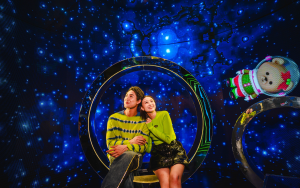 Rainbow Corridor                                                   Cosmic Planets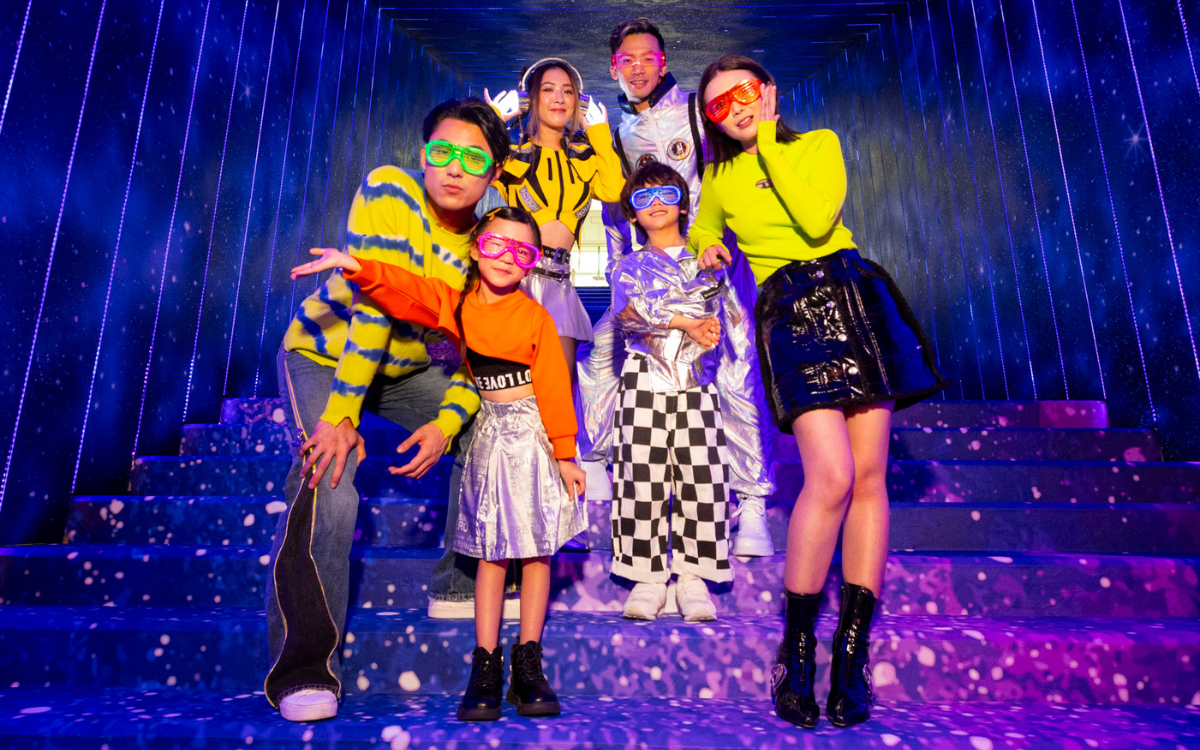 Galaxy Entrance
Harbour City has specially designed a series of cute "Merry Spacemas" WhatsApp stickers for free download. These dynamic stickers feature the lovely, funny friends from the "Bear Planet". This Christmas, remember to share this "out-of-the-world" blessing and heartfelt wishes with your family and friends!